Ways to Give
There are many ways to get involved in Give Big this year! Whether you donate financially or find a volunteer opportunity to donate your time during Give Big to support the life changing work of nonprofits in our community, your donation truly makes a BIG difference. Thank you!
Offline donations can be dropped off from 9 am to 5 pm Friday, May 5th at the One Valley Community Foundation office.
865 Technology Blvd, Suite B, Bozeman, MT 59715
If you are able to support a cause financially this year, the chart below is meant to help you find the right path to giving for you!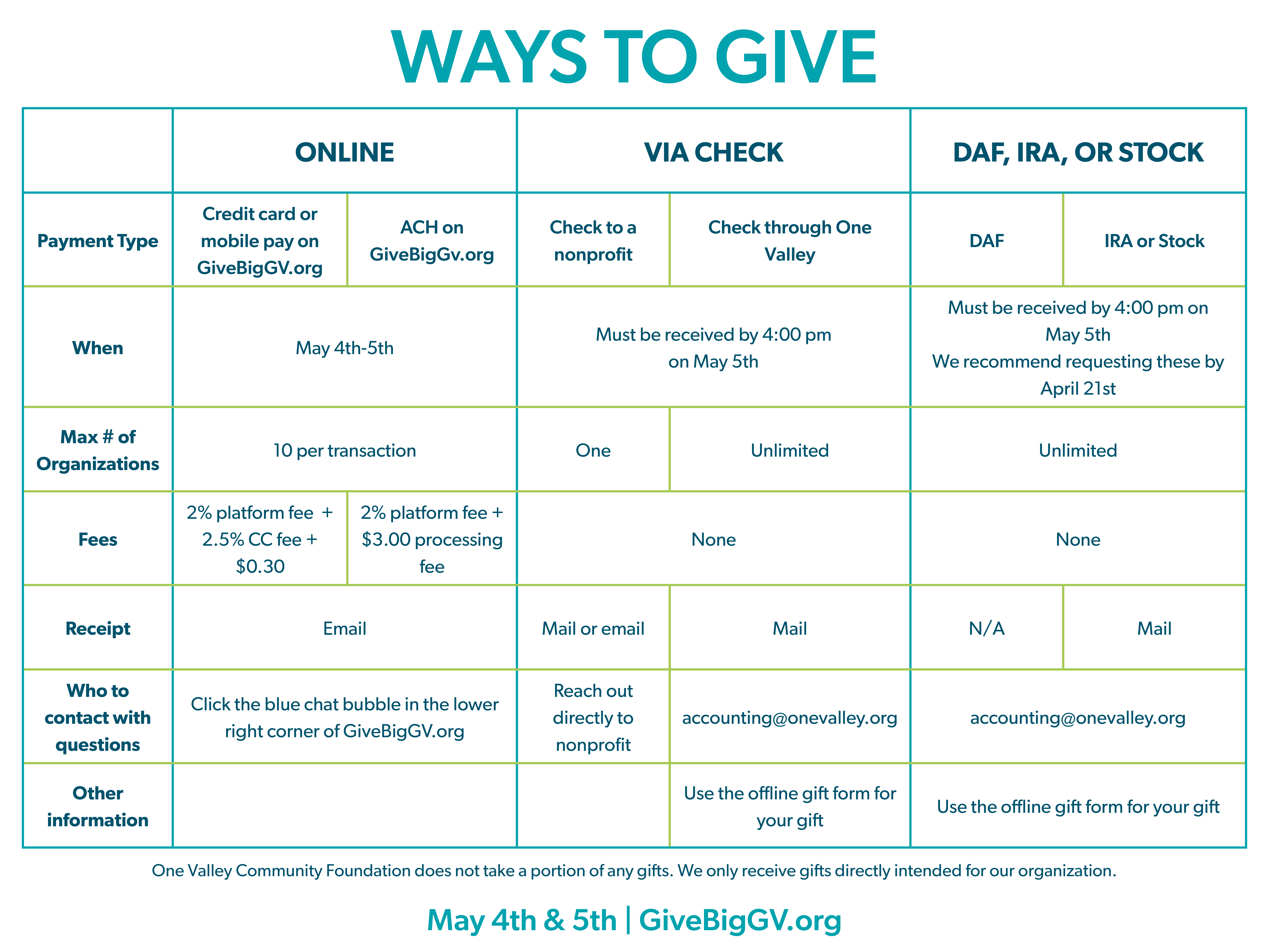 Click Here for the Offline Gift Form
MORE ABOUT DONATING VIA CHECK:
We strongly encourage all check donations to be mailed by Friday, April 21st to ensure they are able to be added to the nonprofits giving totals during Give Big. Checks sent later may not make it to the nonprofit before 6pm on May 5th so may not be counted in their end-of-day totals. Donations that are entered after 6pm on May 5th will still be reflected on the Give Big website but may not be included in press releases or media coverage of the giving day. If you have any questions about giving via check please contact Jill Ellwood, Nonprofit Programming & Relations Manager of One Valley Community Foundation at jill@onevalley.org or at 406-587-6262 x 20. 
1) Directly to the organization: If you would prefer to give via check to support an organization during Give Big, the check needs to be:
Mailed/delivered to the organization before 6pm on May 5th
Dated May 4th or May 5th, 2023
With Give Big in the memo line - this donation must be given to the organization with the intent that it be used for Give Big.
Receipting:

If the nonprofit has your email address: your receipt may be sent via email when the nonprofit adds your donation to their Give Big profile.
If the nonprofit does NOT have your email address: they will receipt you directly via mail after Give Big.
2) Via One Valley Community Foundation -
If you would like to give gifts to multiple organizations through one offline donation, you must:
Mail an Offline Donation Form and check to One Valley Community Foundation or deliver by May 5th.

One Valley Community Foundation mailing address: 1627 W. Main Street # 404 Bozeman, MT 59715
One Valley Community Foundation physical address: 865 Technology Bld, Ste B, Bozeman, MT 59715
Write the check out to One Valley Community Foundation.


Checks are written to One Valley Community Foundation because these funds run through One Valley. A donor is able to give to multiple nonprofits through one check written out to One Valley Community Foundation, and we then distribute those funds to the nonprofits. We are not able to process a check donation made to any other organization other than One Valley. One Valley does not keep any portion of the gift unless directed to by the donor.

Receipting:

You will be receipted by One Valley Community Foundation after Give Big.
IMPORTANT THINGS TO KNOW ABOUT ALL OFFLINE GIFTS:
Offline gifts do not count towards all prizes, but will be accounted for in your organization's totals and the overall Give Big totals.
Offline gifts do not incur any fees.
Offline gifts can be made completely anonymously through One Valley Community Foundation